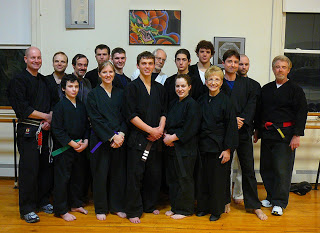 Front row: Peter, (Green belt, honorable mention basics), Lana (Purple belt), Thomas (third degree Brown belt), Colleen (prob. Black belt, honorable mention kata), Mrs. Gobiel
Back row: Sensei Kratz, Mr. Gobiel, Mr. Levesque, Andrew (Blue belt), Scott (second degree Brown belt, honorable mention in all areas), Mr. Milcarek, Teryn (double promotion to prob. Black belt), Ian (Green belt, honorable mention sparring), Mr. Reed, Mr. Chaisson, Sifu Roy
Congratulations to Colleen on her promotion to prob. Black belt. She also received an honorable mention for kata….Incredible forms Colleen.
Also congratulations to Teryn for his double promotion from second degree Brown belt to prob. Black belt……excellent skill and consistency throughout Teryn.
Scott also had incredible consistency throughout the test…from basics to sparring, SD to kata's…..excellent skill Scott
Peter really rose to the occasion with his first testing with the adult group…really held his own. His basics were outstanding!
Ian was a force to reckon with during the sparring….great poise, distancing was second to none, and fast, fast hands…great cross Ian!
This was the A group all around…from the lower ranks to the upper ranks …everyone did outstanding! Congratulations to all…..
Sifu