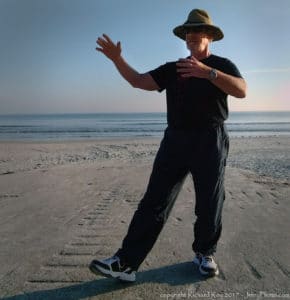 Master Roy (students call him Sifu [See-Fu]) has been a full time martial arts teacher and school owner for over 45 years. He started his study of eastern philosophy and meditation in the 1960's and continues today. He is a 7th generation Disciple in Yang Style Tai Chi Ch'uan (June 30, 2001), an 8th degree Black belt in American Karate (2009), 5th degree Black belt in Modern Arnis (1997), and master teacher of Bagua Zhang, I Ch'uan, and several styles of Qigong.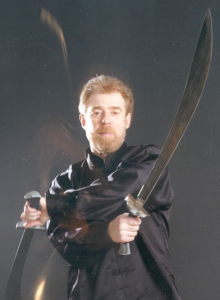 Master Roy has been a lifelong musician, playing drum set and bass guitar in bands, and more recently he's taken up guitar. His long term, consistent musical practice has influenced the way he approaches and practices martial arts. An avid underwater photographer (JRRoyPhoto.com), he also enjoys motorcycling, sailing, down hill skiing, traveling, and hanging out with his wife Ginnie and his two fabulous grandkids.
Master Roy offers lessons in the complete J. R. Roy Martial Arts System:
American Karate
Modern Arnis
Yang Style T'ai Chi Ch'uan
Standing Meditation (I Ch'uan)
Warm ups:

The 10 Exercises – Dr Leung Kay-Chi
The 30 warm ups – Sifu Hayward

Several methods of Qigong:

The 21- Tai Chi Qigong
Wuji Hundan Qigong
Wild Goose Qigong
Walking Qigong

Weapons forms:

Cane
Straight Sword (Jian)
Single Sabre
Double Sabre
6′ Staff
Spear
Double Daggers

Bagua Zhang
Where
During winter months Nov-April, in New Smyrna Beach, Florida, meeting at Hiles Avenue parking lot (on A1a, South Atlantic Avenue, near Mi Mexico Restaurant), then training on the beach. Click for Google Map.
During the summer months May-Oct, in Greenfield Massachusetts, meeting at the J.R. Roy Martial Arts Studio or at Master Roy's home in Leyden, MA.
Tuition
1 hour session – sliding scale – $50-$75
$50 for every hour thereafter
Discounts:
JRRMAS Staff – 50%
For currently enrolled JRRMAS students – 10% off
College student rate – $30 per hour
Inquire & Join
Contact Master Roy at [email protected] ,
or leave a message at the Greenfield Studio at (413) 774-2888.