J.R. Roy Martial Arts Studio is proud to announce this latest addition to the JRRMAS curriculum. Ashley Liu, who taught Chinese calligraphy here last winter, and Jack Fox, Karate and Arnis instructor, will teach this course.
Course Description
The course will consist of two classes. In the Gongfu Tea Ceremony class, students will learn the history, various production methods and techniques for making teas, and prepare samplings of various traditional teas using the Gongfu method. In the Chinese calligraphy class, students will begin by learning the basic strokes and materials of a calligraphy artist, followed by traditional characters and more advanced techniques. Students may attend just one or both of these classes.
Having sparked interest with the "Taste of Calligraphy" class last February, Ashley and Jack are excited to provide this course for students who want more complete instruction in this ancient art. Ashley teaches a Chinese calligraphy course every July to foreign students in Beijing, so her teaching and calligraphy skills will be fresh when she visits Western Mass at the end of the month.
Gongfu Tea Ceremony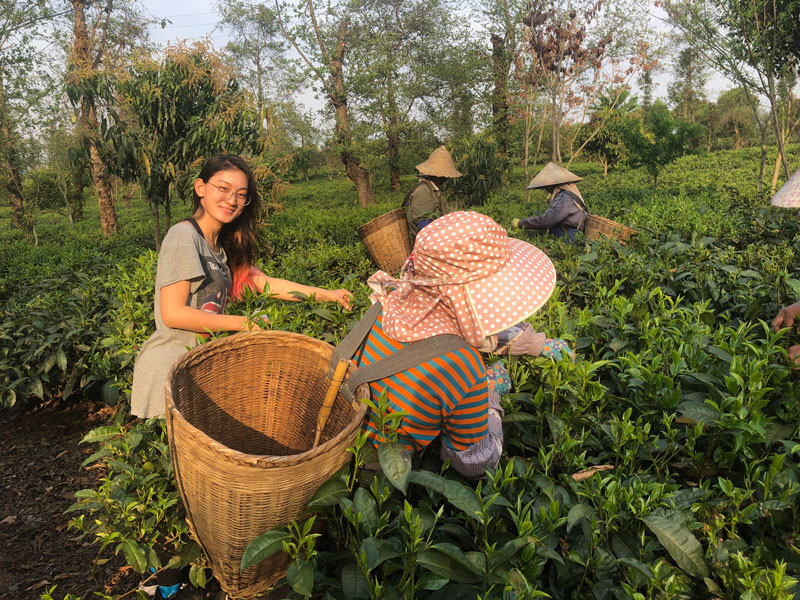 The Gongfu Tea Ceremony part of the course will be a first for the studio. Although this may be Greenfield's first taste of gongfu tea, it has a long history in the East. Since the Song dynasty (960-1279 AD), scholars and martial arts masters alike have used this method to stimulate their senses and as a study in itself. It's time for Sifu's daily cup of green tea to be brought to the next level.
Jack and Ashley spent time this spring with tea masters in Yunnan Province, China. There they studied the Gongfu Tea Ceremony and all about pu'er tea. The ethnic minorities who still inhabit this original tea producing region, and visiting tea masters taught and inspired them to share this knowledge. They made sure to bring back delicious and authentic tea as well.
Join us this summer to learn more about tea, calligraphy, and Chinese culture!
See the flyer for dates and prices here