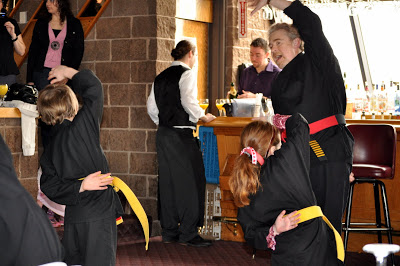 The following series of photographs were taken by Travis R.
Thanks Travis for the excellent photography!
The photographs were taken at Bella Note in Bernardston at a demonstration of American Karate-do.
Assiting Sifu Roy for their first demonstration were four of his students and one JRRMAS staff member. Many thanks to them….they all did an excellent job!
Dylan R. – Yellow Belt – a graduated of the Little Dragons program. Dylan attends the regular Youth Karate-do classes
Skyler C. – Yellow Belt – a graduate of the Little Dragons program. Skyler now attends the regular Youth Karate-do classes
Taylor R. – White Belt – attends the Little Dragons classes
Jacob – White Belt – attends the Little Dragons classes
Read Predmore – JRRMAS T'ai-Chi Ch'uan staff member