Since the opening of our school in 1972, the objective of J. R. Roy Martial Arts has been to combine excellent instruction with diligent practice. Current Special: FREE Month for a New Student Friend of a Current Student.

See more cost-saving Specials.

Beginners always welcome.
Many martial "arts" have degenerated into mere callisthenics and what is easy to teach but lacks the deep power that should inform technique. Master Roy, a member of the Martial Arts World Hall of Fame with 40+ years of full time practice and teaching of five martial arts, transmits to his instructors and students the knowledge and processes by which the power inherent in martial arts transcends mere natural ability.
Even the seemingly least martial of the five arts taught here, T'ai Chi, has tremendous martial power hidden in its graceful healing moves, and our school reveals that power. You will understand and manifest the inherent purpose in T'ai Chi's fluent movements.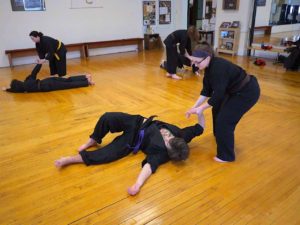 On the other end of the outwardly martial spectrum, J. R. Roy's Karate goes way beyond kicking and punching. We teach effective self defense, including ground techniques that are informed by the best of the other martial arts.
"Our family has been part of the J.R. Roy Martial Arts studio for 10 years. Our daughters have grown up at the studio and continue to be mentored at the highest levels. Not only are they learning the art of karate but they are also gaining strength, balance and agility. These skills are so valuable in every aspect of their lives, especially the focus on honesty, hard work and strength of spirit. The far reaching positive effects from J.R. Roy Martial Arts cannot be calculated. We are so grateful to be part of this amazing dojo."
— Ryan
Experience how martial arts connects the physical, the mental, and the spiritual.
Gain strength through relaxation, proper body mechanics, and a focused mind.
Achieve maximum effect from your effort.
Enjoy greater flexibility, patience, power, health, security, and serenity.
See all of our martial arts programs for children and adults.
For online registration please visit our Contact page. See our class schedule for class times.
Or email Sensei Jeff Chaisson right now: JrroyMartialArts@gmail.com. 
See our Tuition Prices.
Karate, T'ai Chi Ch'uan, Modern Arnis, Qigong, Bagua Zhang
J. R. Roy Martial Arts ~ Since 1972